Description
WHEN IT COMES TO TREASURE HUNTING, EXPLORING, AND ADVENTURING, YOU NEED THE RIGHT GEAR!
An award-winning ultra-thin, tough GPS watch
Suunto 9 is our flagship range of full-featured GPS sports watches with superior battery life and durability for the most demanding conditions. The Suunto 9 Peak is the thinnest and toughest watch Suunto has ever made.
Suunto 9 Peak All Black uses stainless steel for strong metal construction built for purpose. The color-matched premium coating gives the watch a look and feels beyond measuring.
Made in Finland with 100% renewable energy.
INTELLIGENT BATTERY MODES
OVER 80 SPORT MODES
SAPPHIRE GLASS AND STAINLESS STEEL
GPS NAVIGATION
WEATHER FUNCTIONS
BLOOD OXYGEN
TOUCH SCREEN
100 M WATER RESISTANT
PRODUCT HIGHLIGHTS
Award-winning design
Thinnest and toughest Suunto watch yet. Combining sleek design with premium materials, such as sapphire glass for a classy look. Built to last.
Come sunshine or rain
Get weather insights during your outdoor activity. Stay safe with storm alarms or use the trackback function to make sure you get back home before the sunset.
Doing right for the planet
Suunto 9 Peak products are made in Finland with 100% renewable, carbon-neutral energy.
Plan your next adventure
Route navigation, 3D heatmaps, and turn-by-turn navigation. Map out your route and let your watch guide you.
Superior battery life
Built to outlast even the longest adventures. Battery life of up to 25 hours with best GPS and up to 7 days in Tour mode.
Stay active
Track your training, heart rate, fitness level, repetitions, blood oxygen, and more. Sleep, stress, and recovery tracking ensure you are ready for your next training.
Award-winning Nordic design
The Suunto 9 Peak is designed to fit under the jacket sleeve and does not get caught on your backpack. We have improved the strap closure with a metal pin, which is easy to use and securely holds your strap in place so that your watch is with you on all adventures and every aspect of life.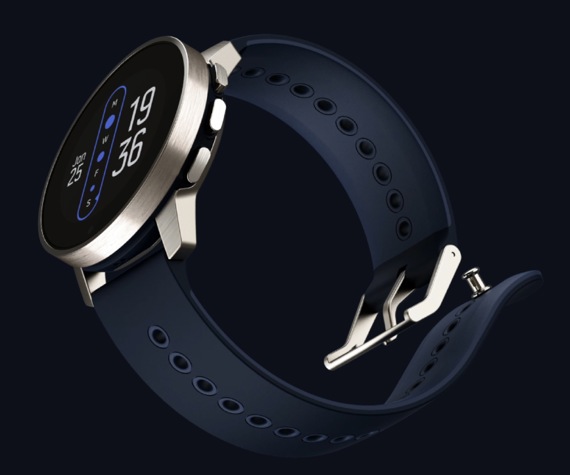 As individual as you
The smooth and subtle design of the watch makes it versatile, allowing it to become a part of your everyday adventures. We have designed a strap portfolio that is inspired by Nordic colors and offers you a choice of different materials for your wrist strap. Select a silicone strap for your workouts and use a leather or microfiber strap for your urban adventures.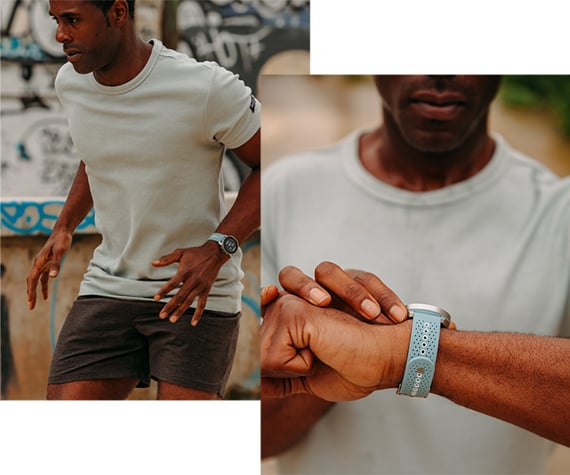 Ultra-thin, ultra-tough
Suunto's thinnest, smallest, and toughest watch yet. No compromises were made when it comes to the battery life and features. Your watch offers from 25 hours with the best GPS and up to 170 hours in Tour mode for you to reach peak experiences. Waterproof 100 m. Premium quality made in Finland tested in the toughest conditions.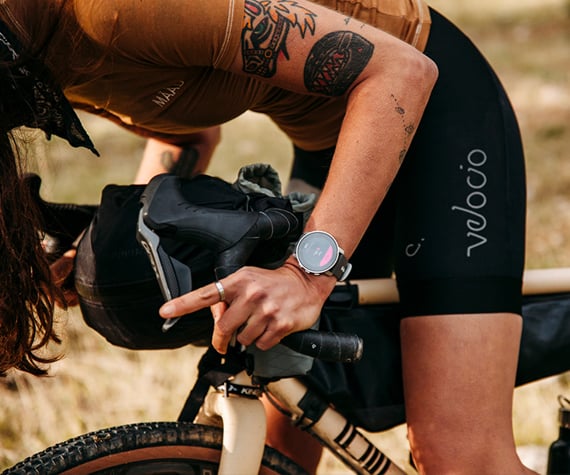 Designed for adventure
Use the Suunto app to map out your route in advance and let your watch guide you. The watch features include a compass and barometric altitude to ensure an accurate and responsive altitude reading. Gives you the means to explore unknown routes and find your way back in time for the next adventure.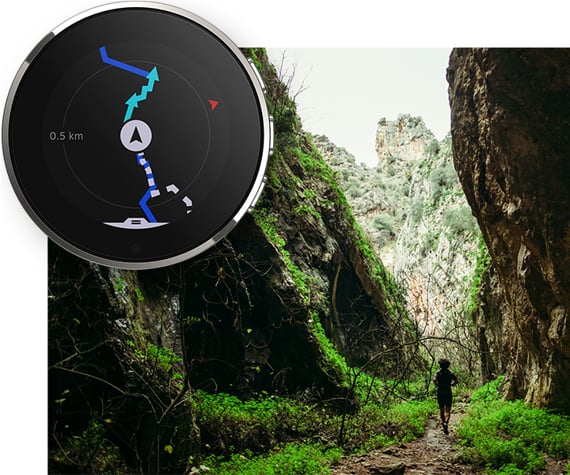 Ready to step up your training
Track the moments that get your blood pumping by using one of the 80+ sports modes or simply create your own. Check your heart rate and pace during a run or analyze the training load and progress in the Suunto app.
You can further upgrade your Suunto watch by connecting it with your preferred sports service to analyze your training the way you want to.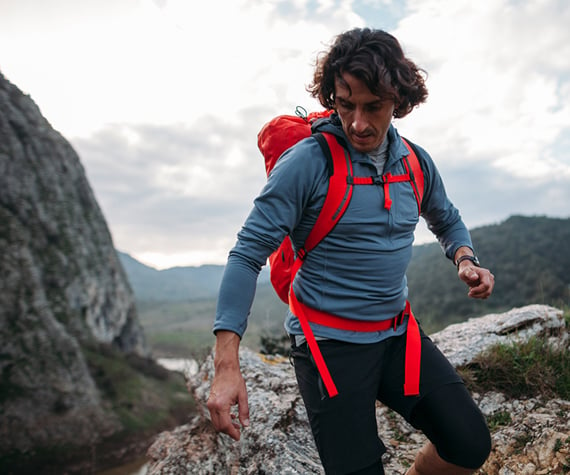 Bring balance to your life
Get a more complete insight into your well-being by looking at your daily steps, your sleep, and your stress level.
Suunto app provides you with summaries, trends, and practical analysis to support you in balancing your training load and recovery so that you are ready for your next adventure.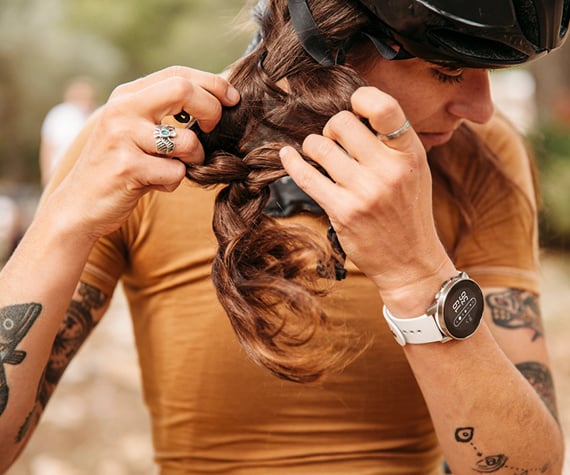 Train with your favorite music and apps
Connect your Suunto watch with your favorite tools from our 200+ partners to analyze your training, find new routes, get coaching, or create 3D videos of your adventures – and share them with your favorite community. When in need of that extra boost of energy, just select your favorite music, control it with your watch and start the workout.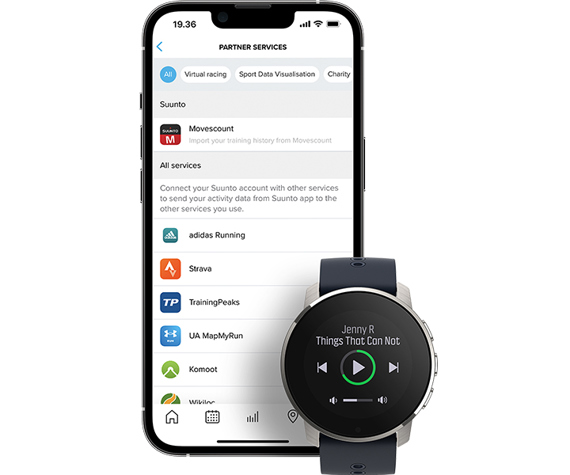 SPECIFICATIONS

| | |
| --- | --- |
| Measurements | 43 x 43 x 10.6 mm / 1.69 x 1.69 x 0.42 " |
| Weight | 62 g / 2.19 oz |
| Bezel material: | Stainless steel |
| Glass material: | Sapphire crystal |
| Case material: | Stainless steel, Glass fiber reinforced polyamide |
| Strap material: | Silicone |
| What's in the box? | Suunto 9 Peak All Black, charging cable, printed user documentation |
Let the experts help you decide which Suunto watch is perfect for you. Buy the same gear that the Treasures in America team uses on their adventures. Don't wait. Get yours today!