Description
New Release | Gold Metal Detector
Introducing Minelab's Newest Metal Detector on the Market
VIEW THE MINELAB GPX 6000 INSTRUCTIONAL VIDEO
Minelab Military Discount

Use this Coupon Code

MILITARY15%

at checkout

Please email your military documents after you purchase

For More Information please click here to see if you qualify for the military discount

Minelab and Treasures in America are proud to announce that with our combined efforts, we now offer the Minelab Military Discount Program with 15% off to all active and retired military personal. This is our way of saying thank you. If you are a Veteran, in active duty, or past military service then this program is designed for you.
MINELAB GPX 6000
Powered by GeoSense-PI technology, the GPX 6000 is the fastest, lightest, and simplest way to find all types of gold in one machine.
The GPX 6000 is the newest gold machine to enter the lineup of first-class gold detectors from Minelab. Everyone who has used the GPX 5000 or GPZ 7000 metal detector will notice the lightweight build of the GPX 6000 as soon as you set it up. At only 2.1kg or about 4.6lbs, this detector won't tire you out as easily as the larger, older models of the detector.
GEOSENSE-PI™ TECHNOLOGY
GeoSense-PI™ technology quickly and precisely analyses gold signals buried in the ground, so you'll be able to hear all gold pieces clearly.
FIND ALL GOLD
Small fragments to large nuggets and everything in between can be accurately located with this one detector.
EASY EXPERT
With automatic features and an easy-to-use interface, you'll be an expert at finding gold from the moment you turn on your GPX 6000. Because GeoSense-PI continuously adapts to changing soil conditions as you swing your detector over the ground, there's no need to adjust any settings. Finding gold has never been easier.
MINELAB GPX 6000 FEATURES
LIGHTER SWING, LONGER DETECTING
Weighs only 2.1 kg (4.6 lb), featuring light carbon fiber shafts, streamlined control box, and signature U-Flex™ so you can detect for longer and feel comfortable doing it.
LOUD AND CLEAR AUDIO
Minelab's GPX 6000 includes loud and clear audio. Choose between the in-built speaker or wireless audio with the new ML100 aptX™ Low Latency Bluetooth™ headphones. With GPX 6000, you'll never miss out on the sound of gold.
CHOICE OF COILS
Minelab's GPX 6000 features three coil options: the GPX11″ Monoloop coil for versatile gold hunting, the GPX14″ Double-D coil to detect gold accurately even in salty environments, and the GPX17″ Elliptical coil, to find large gold nuggets at greater depth. All coils are waterproof to 1 m (3 ft).
BUILT TO LAST
Minelab's GPX 6000 is built to last. Tested in the harsh environments of goldfields worldwide, the GPX 6000 can withstand extreme heat and heavy rains with waterproof coils and a splash-proof control box. A 3-year warranty is included, backed by Minelab's global support.
GPX 6000 LEARN
Become an Easy Expert with our GPX 6000™ Learn modules. These short videos will help you learn how to operate the GPX 6000 gold detector.
COMPACT AND COLLAPSIBLE
Minelab's GPX 6000 is the perfect balance of performance and ergonomics. Its ultra-light carbon fiber shafts allow you can to swing it all day long, and it packs down to a small 76 cm (30 in) so it will fit into your backpack. Never carry two detectors again to find big and small gold.
LIGHTWEIGHT
The GPX 6000 weighs only 2.3 kg (5.1 lb), featuring carbon fiber shafts, streamlined control box, and signature U-Flex™ armrest – detect longer and feel comfortable doing it. With a Li-Ion quick-release rechargeable battery supplied, you can detect for up to 8 hours on a single charge.
MINELAB GPX 6000 TECHNOLOGIES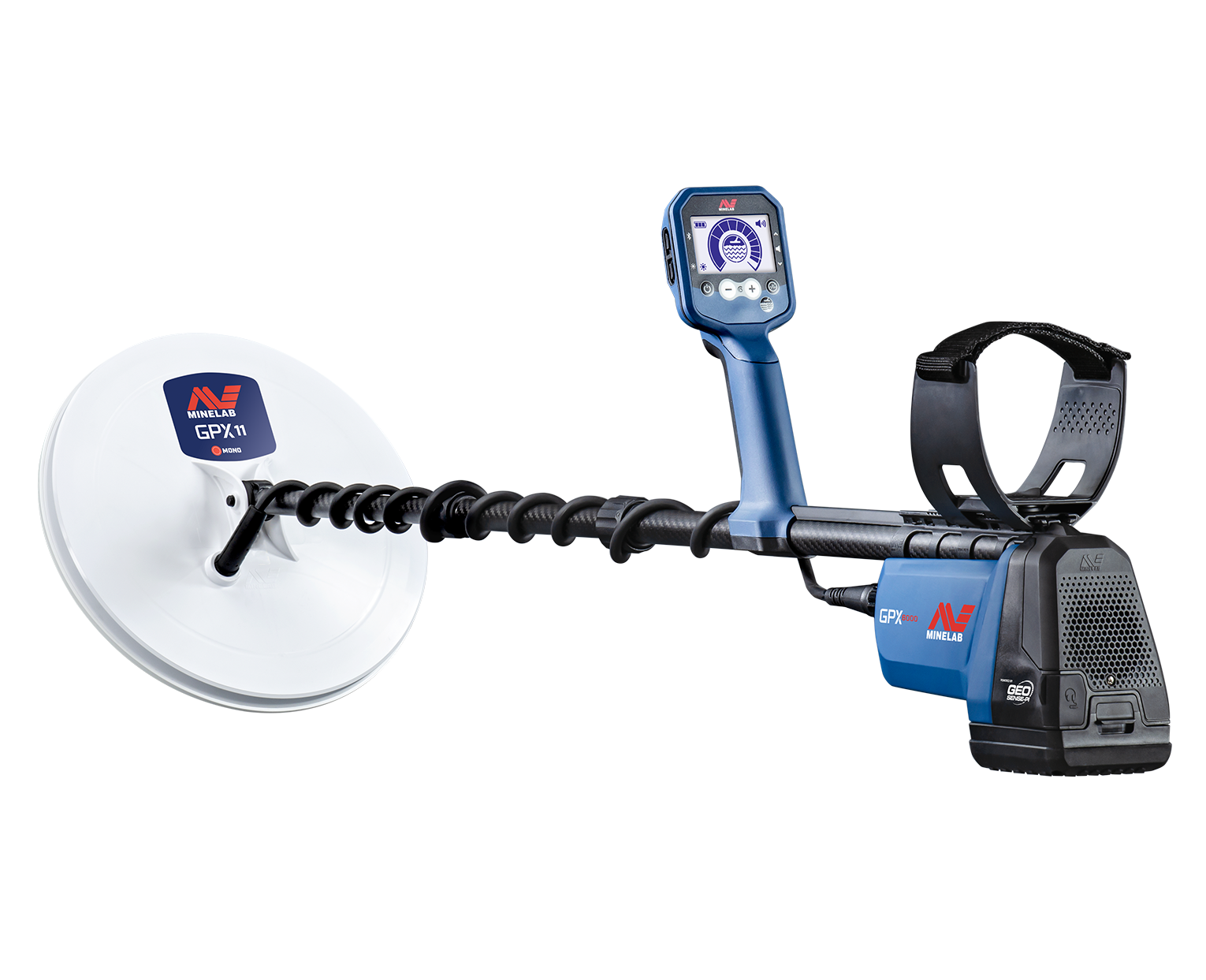 GEOSENSE-PI
GeoSense-PI technology analyses and responds to ground signals with great clarity and precision, so you can detect in difficult environments once thought undetectable.
It rapidly suppresses unwanted signals via three overlapping feedback systems for superfast detection of even the tiniest gold pieces.
Powered by GeoSense technology, the GPX 6000 is in tune with you and the earth.
MINELAB GPX 6000 TECH SPECS
Search Modes (Ground Types) – Difficult (default) | Normal
Double-D Modes – EMI Cancel (default) | Conductive Ground Cancel
Ground Balance – Auto | Manual (Quick-Trak)
Noise Cancel – Automatic (on start-up) | Manual (as needed – 5s duration)
Sensitivity – Manual (levels 1 — 10) | Auto (level 11) | Auto+ (Level 12)
Length – Extended: 155 cm (61 in) | Collapsed: 67 cm (26.5 in)
Weight – 2.1 kg (4.6 lb) (with 11″ round Monoloop coil)
Display – Monchrome LCD with backlight
Available coils -GPX 11™ 11″ round Monoloop | GPX 14™ 14″ round Double-D | GPX 17™ 17″x13″ elliptical Monoloop
Audio Output – Built-in loudspeaker | Wired 3.5 mm (1/8″ headphones) | Bluetooth wireless audio (aptX™ Low Latency)
Supplied Headphones – ML 100 wireless headphones
Supplied Batteries – Rechargeable Lithium-Ion battery 5833 mAh
Battery Runtime – 8 hours (approximately)
Waterproof – Coils: submersible to 1m (3.3 ft) | Detector: splash / rainproof
Operating Frequency – 1.225 kHz
Operating Temperature Range | -10°C to +50°C (+14°F to +122°F)
Storage Temperature Range | -20°C to 70°C (-4°F to 158°F)
Key Technologies – GeoSense-PI™ | Bluetooth | aptX™ Low Latency
From Timothy Draper | Founder & CEO of Treasures in America:
"I know I'm excited to see more about the new GPX 6000. From the little bit, I do know, this could be one of the best and most modern gold detectors on the market today. As soon as I get more information, I'll add it to this page and we will do everything we can to get ready for the day of the launch. The treasure-hunting community needs this type of gold detecting technology and I'm glad Minelab has done great at offering the best to us."
Minelab released a statement on January 15th, 2021 they're going to release a new model of the Minelab GPX series. This superior gold metal detector is going to be one of the greatest gold detectors on the market.
Minelab is always thriving to produce the best of the best when it comes to technology, design, and performance and the Minelab GPX 6000 is no exception to anything but excellence.
To see more Minelab products from Treasures in America Online store, please follow the link below.
BECOME A MEMBER AND GET EXCLUSIVE PRICES
Minelab GPX 6000 – Last Updated 4-2-2021
STAY TUNED FOR MORE UPDATES
This is only a sneak peek and Minelab will release more information to the public in the coming weeks. We at Treasures in America are Authorized Online Minelab Dealers and we're doing everything we can to get ready for this exciting new release.
We'll update this product page as often as Minelab releases information.
OUR PROMISE
Treasures in America services are available for everyone from beginners to advanced detectorists. If you're a hobbyist to an expert treasure hunter, we're the store for you. We carry everything from all the top brand metal detectors in the world, all the way down to the accessories you'll need for your journey. Treasures in America also offer all kinds of resources. Find what treasures lie within our website. It's a treasure hunt within itself.
We have over 22 successful years in the field hunting after historical treasures and lost history and we want to offer the right treasure hunting gear and knowledge. Our customer service team is just as excited to help you on your adventure as you're. We understand what it's like to order products and plan your next trip.
Browse our website to find unlimited resources. Don't hesitate to reach out to us through our online chat and our contact us form.