Description
Minelab Military Discount

Use this Coupon Code

MILITARY15%

at checkout

Please email your military documents after you purchase

For More Information please click here to see if you qualify for the military discount

Minelab and Treasures in America are proud to announce that with our combined efforts, we now offer the Minelab Military Discount Program with 15% off to all active and retired military personal. This is our way of saying thank you. If you are a Veteran, in active duty, or past military service then this program is designed for you.
The World's Best Water Detector! 100% WATERPROOF up to 200 FEET
Minelab's unique Broad Band Spectrum (BBS) technology, combined with superior ground rejecting technology, makes the Excalibur II the ideal underwater machine. The design of the Minelab Excalibur II allows you to use it as effectively in or out of the water – this amphibious machine can move seamlessly from the land, beach, and wet sand conditions to underwater depths of up to 200ft (66m). Minelab's multi-frequency BBS technology, housed in a rugged platform, makes the EXCALIBUR II the best deep diving underwater treasure detector available.
With superior ground canceling, false signals from detecting in saltwater are greatly reduced. Enjoy the simple yet effective discrimination and be surprised at the sensitivity and depth you uncover targets from.
Whether you are a long-time diver or a casual beachcomber the Excalibur II is unbeatable for working the beach, wading in the shallows, or diving a wreck at 200 feet for treasures.
Features
High Visibility fluorescent bodywork and skidplate.
Slimline 10″ coil for reduced weight and improved balance.
BBS multiple frequency technologies (1.5kHz – 25.5kHz).
RCB amplifies weak target signals inside the coil, reducing noise and boosting faint, deep objects.
NiMH Rechargeable battery pack for operation up to 12 hours.
Side-mount shaft for shallow and surf-wading (available as an optional accessory).
---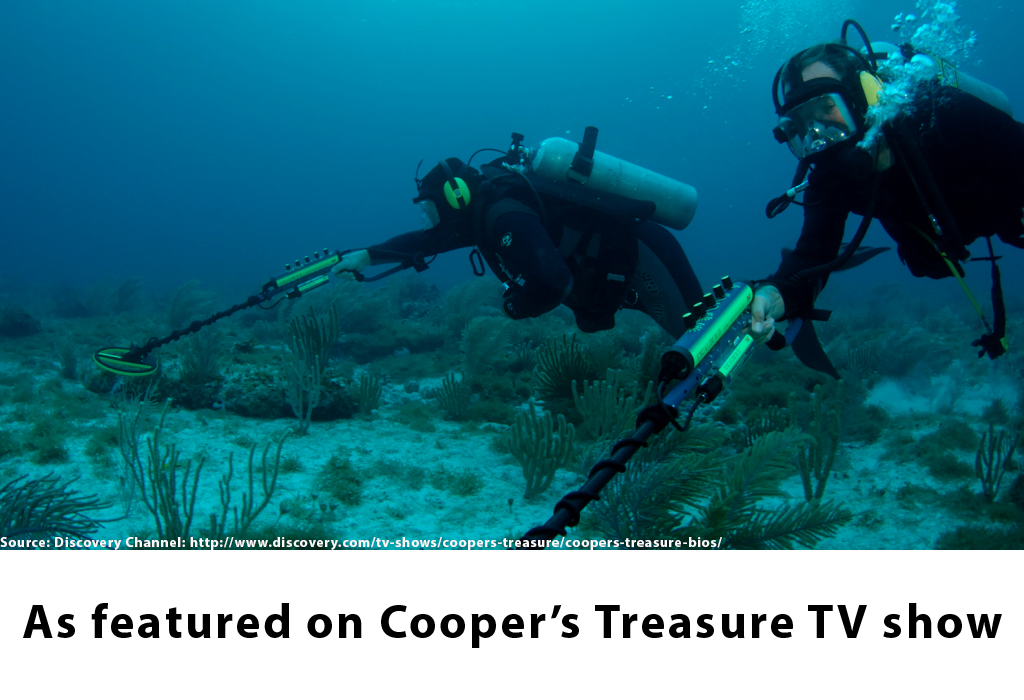 Check out the Excalibur II in action on Discovery Channel's Cooper's Treasure. Cooper's Treasure follows the search for sunken treasure in the Caribbean using a map drawn up by astronaut Gordon Cooper while he was in space! And of course, they're using the best tool for the job, a Minelab Excalibur II!
At Treasures in America
We take our treasure hunting and metal detecting very seriously. We believe that you will only be so successful if you have the knowledge and correct gear, a little bit of luck helps too. That's why we are devoted to helping every person that speaks up and asks for it. We want to help outfit you with the best gear that fits your budget. We back our warranties, return policies, and products 100% and we help everyone get out in the field so you can do what you love doing. We are very passionate about treasure hunting and we want to see you have fun but be successful. Reach out to our customer service department to learn more.
Treasures in America. The fastest-growing treasure hunting and metal detecting company in America. It's not just a metal detector, it's a LIFESTYLE. Good LUck. Be Safe. Find Your Adventure.