Description
Minelab Military Discount

Use this Coupon Code

MILITARY15%

at checkout

Please email your military documents after you purchase

For More Information please click here to see if you qualify for the military discount

Minelab and Treasures in America are proud to announce that with our combined efforts, we now offer the Minelab Military Discount Program with 15% off to all active and retired military personal. This is our way of saying thank you. If you are a Veteran, in active duty, or past military service then this program is designed for you.
The Minelab CTX 3030 Metal Detector is a serious metal detector for detectorists, treasure hunters, and more. This professional metal detector has multiple frequency transmissions, advanced targeting, and high sensitivity.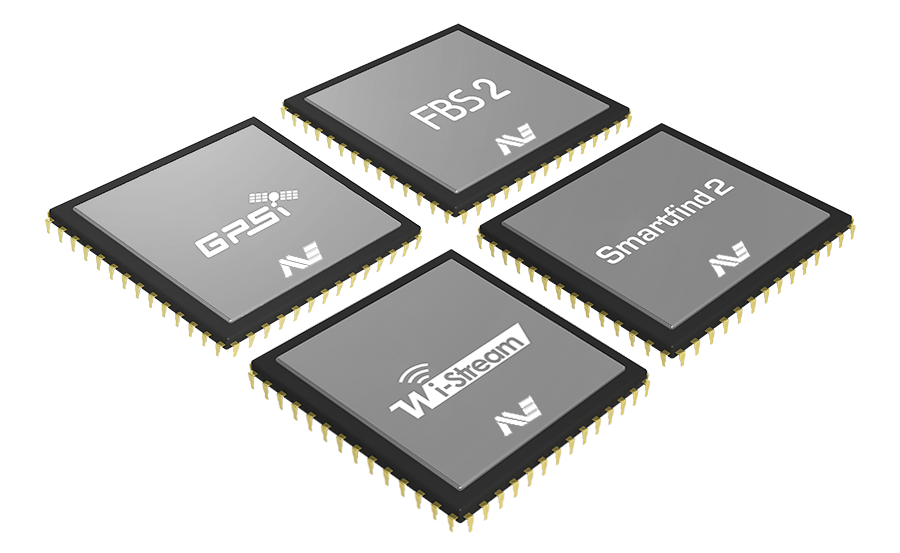 FBS 2, SMARTFIND 2, GPSI, AND WI-STREAM TECHNOLOGY
FBS 2: Uses multiple frequency transmission and coil-to-detector data communication to find more targets in variable ground conditions.
Smartfind 2: provides digital signal processing and precision FeCo discrimination, with color target information, for the best target identification results.
GPSi: has a very high sensitivity for accurate recording of geo-locations.
Wi-Stream creates very fast wireless audio with no loss of sound quality.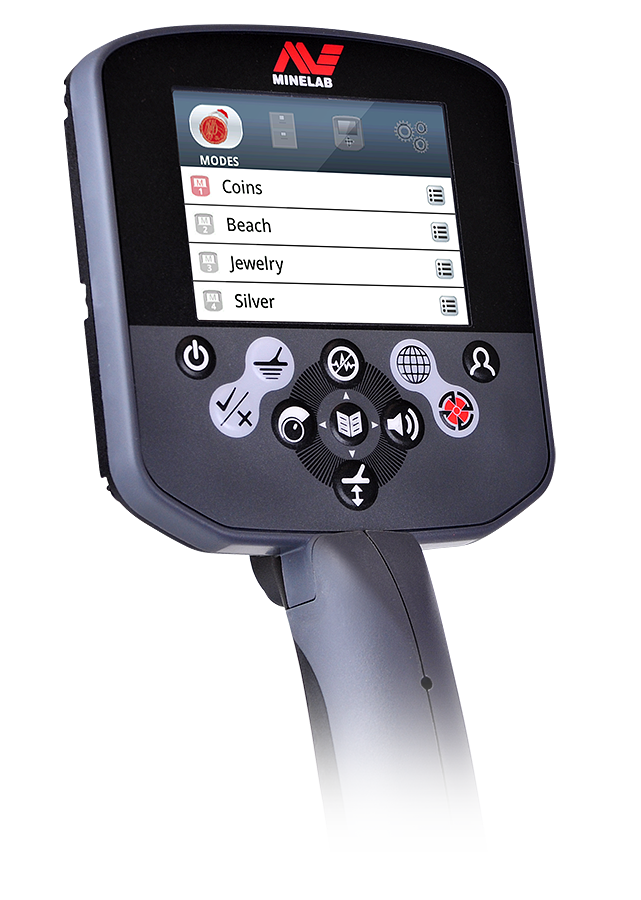 Minelab CTX 3030
The Best Metal Detector
The Minelab CTX 3030 is one of the best metal detectors on the market today. It's been featured by several TV Shows and more. It is capable of locating all metals. Gold, relics, jewelry, coins, and more. It has the performance for a professional but easy enough for a beginner. Waterproof up to 10′ feet and can be used at the beach, field, woods, water… The possibilities are endless. Contact us today to learn more.
QUICK MENUS
The Minelab CTX 3030 is easy to use, with Quick Menus for on-the-go adjustments. Five preset search modes and automatic features make it easy to learn how to use this treasure detector. Smart functions for sensitivity, noise cancel, audio, and ground balance and a customizable user button make it easy to adjust controls on the fly.

ERGONOMIC DESIGN
The Minelab CTX 3030 is designed for user comfort. It is well-balanced and adjustable, and the majority of the weight sits behind the armrest, making it easy to carry over a long day of treasure hunting. The metal detector is fully adjustable to suit your needs.

ALL-TERRAIN &WATERPROOF
This metal detector can be used on land, beach, and water. It is waterproof up to 10 feet and has great ground canceling capabilities, so even heavily mineralized soil can be filtered out.

SMARTFIND 2 FECO DISCRIMINATION
Smartfind 2 technology offers digital signal processing and enhanced FeCo (ferrous and conductivity) discrimination. This offers better target identification, as you can use Tone IDs to focus on certain targets and ignore others. Target Trace and Target Separation allow you to accurately identify multiple targets at once.

WIRELESS AUDIO
Use headphones without getting tangled up in cords. The Minelab CTX 3030 comes with a WM10 wireless module, so you can quickly connect wireless headphones without losing any sound quality.

FULL-COLOR DISPLAY
The full-color LCD clearly displays more target information than ever before and greatly enhances the CTX 3030's discrimination capabilities.

GPS LOCATING & PC MAPPING
The Minelab CTX 3030 metal detector includes a map screen and navigation tool on its full-color LCD display. You can easily share your treasure readings, settings, and locations to your computer with the XChange 2 application. This way, you can look back later to learn more, share what you found, or re-explore certain areas.

FBS 2 TECHNOLOGY
This metal detector has FBS 2 technology, which uses multiple frequency transmissions and coil-to-detector communication to find more targets in varied ground conditions, differentiating between good targets and junk metals.

MULTI-LANGUAGE
You can choose from 9 different languages: English, French, German, Italian, Polish, Portuguese, Russian, Spanish or Turkish.
The Minelab CTX 3030 metal detector is one of the best metal detectors available today. If you need help finding the right treasure detector for your needs, contact Treasures in America. We are passionate about treasure hunting and are happy to offer resources, guides, and more product information for our customers. Visit Minelab to learn more.
MINELAB CTX 3030 TECHNOLOGIES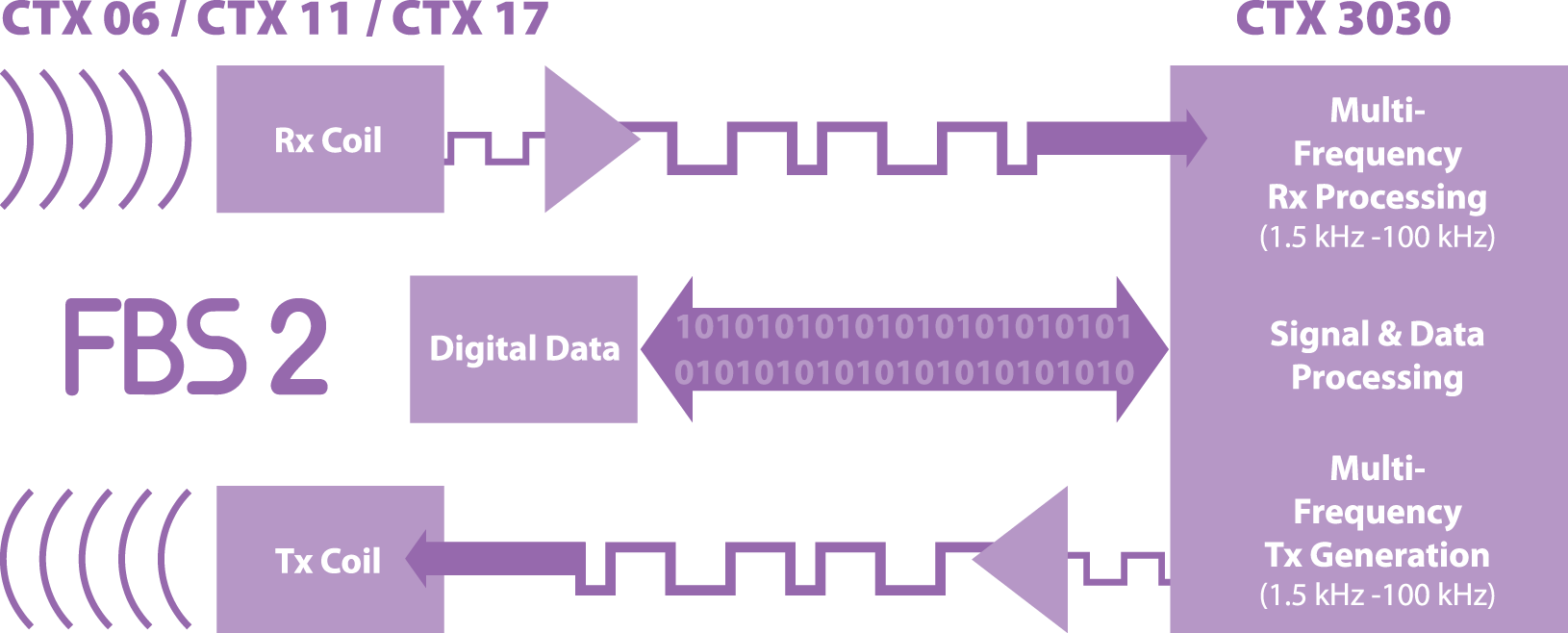 FBS 2
FBS 2 combines Minelab's FBS multiple frequency rectangular-wave transmission (1.5 kHz –100 kHz) with advanced digital coil-to-detector communications. The precisely calibrated smart coils and detector electronics allow advanced signal analysis for more accurate detection.

SMARTFIND 2
Smartfind 2 greatly enhances Minelab's FeCo Discrimination to analyze and display a target's Ferrous (Fe) and Conductive (Co) properties on a full-color LCD.
Ultra-fast microcontrollers carry out digital signal processing to provide significantly improved target separation.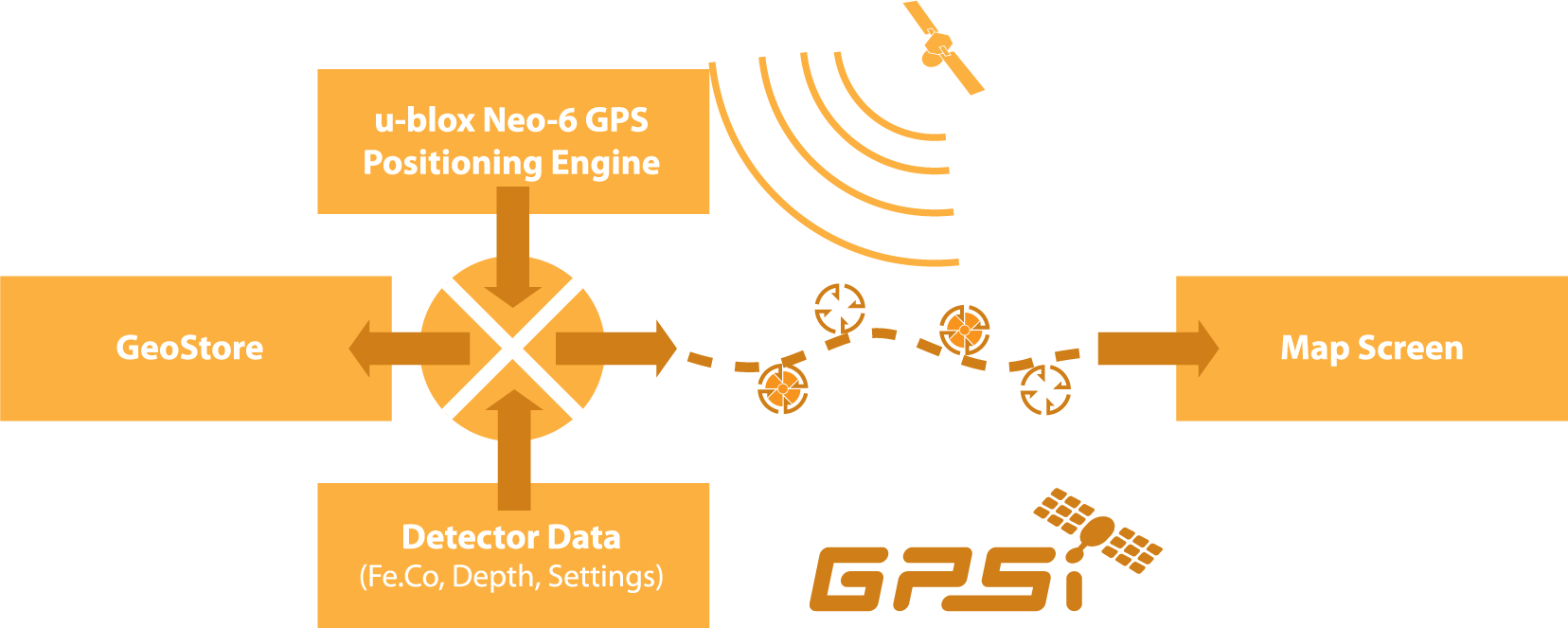 GPSI
GPSi uses the high performance and flexibility of a u-blox GPS positioning engine to seamlessly integrate location and time data with detector settings and target information. This creates WayPoint, FindPoint, and GeoHunt files that are compatible with XChange 2.

WI-STREAM
Wi-Stream uses efficient low-power digital audio transmission to achieve no perceivable audio time lag (<10 ms) between the Wi-Stream enabled detector and the WM Wireless Module. With multiple channel capability, this wireless technology provides reliable communication with maximum sound quality.
Wi-Stream technology is offered in a range of Minelab detectors, however, the WM modules are not cross-compatible between detectors.
WM module and detector compatibility:
WM 12 – GPZ 7000
WM 10 – CTX 3030
WM 08 – EQUINOX Series
MINELAB CTX 3030 TECH SPECS
Application
Coin, Relic, Jewellery & Beach (waterproof 10ft)
Technology
FBS 2, Smartfind 2, GPSi, Wi-Stream
Frequency/Transmission
Multiple frequencies: 1.5 – 100kHz
Coil (standard)
11-inch waterproof Double-D smart coil
Audio Output
Built-in speaker, standard ¼-inch non-waterproof socket, custom waterproof socket (Minelab accessory headphones only)
Headphones Supplied
KOSS UR30 (100 ohms) supplied with detector (non-waterproof )
Visual Display
Full-color LCD with backlight and adjustable brightness (1–10)
Backlight
USB Connectivity
USB interface for XChange 2 PC software
Memory
Settings saved automatically while detecting and remain until changed or reset
Depth Indication
Accurate gauge active in normal detecting and Pinpoint mode
Detect Modes
10 fully customizable, including 5 preset (Coins, Beach, Relic, Silver & High Trash)
Discrimination
Smartfind 2TM 2 dimensional color discrimination: Ferrous 35, Conductivity 50 – 20 fully customizable discrimination patterns (2 per Search Mode)
Audio tone
Customizable Tone ID Profiles – 1, 2 ferrous (Fe), 2 conductive (Co), 4 Fe, 4 Co, 35 Fe, 50 Co or Combined
Audio Type
Normal, Long, Smooth & Pitch Hold
Ground Balance
Auto Compensation and Auto Ground Balance
Pinpoint
Non-motion with a modulated audio and visual crosshair on LCD, 2 modes: normal and sizing
Tune / Noise Cancel
Manual & Automatic (11 channels)
Threshold
Level adjustment (1–50), Pitch adjustment (1–30)
Battery
Li-ion pack with a fast charger. 12 V car adapter supplied with Standard Pack only
Low battery alert
Audio & visual indication.
Length
Min 37 in. (940 mm) – Max 55.3 in. (1405 mm)
Weight
5.20 lbs (2.36 kgs) including Li-ion battery pack
Warranty
3 years control box & coil