Description
It's Finally Here! The NEWEST metal detector on the market
Learn more about the Garrett ACE APEX Today.
THE PINNACLE OF MULTI-FREQUENCY DETECTION FLEXIBILITY
LIGHTWEIGHT –
Well-Balanced Only 2.5 Pounds

The Garrett Ace Apex is designed a great new look to the Garret family but still included that easy-to-use screen functions. The Garrett Ace Apex | Multi-Flex metal detector uses 4 different frequencies so you can enjoy your metal detecting hobby even further. Time has shown the multi-frequency detectors have done very well out in the field. Some detectorist believes that multi-detector is the only way to go. Pre-Order yours today right here at Treasures in America.
TWO PACKAGES TO CHOOSE FROM
ACE APEX (Standard Package)
Includes Apex metal detector and Viper coil cover.
PN: 1142320
ACE APEX WIRELESS PACKAGE
Includes Apex metal detector, MS-3 Z-Lynk wireless headphones, and Viper coil cover. (Big savings over buying MS-3 separately)
PN: 1142325


Go fully wireless!
WHEN WILL THE GARRETT ACE APEX BE RELEASED?
The estimated time given by Garrett is in July of 2020. Like many other new releases, some times it takes a while to stock new releases on the shelf. Treasures in America suggest to all that want to buy the Apex to purchase this detector as soon as possible so your name is put on the list. Orders will be released as a "First Come, First Serve." If you have any questions please reach out to us and we will be more than happy to help you.

COMPLETE FLEXIBILITY
Garrett's Multi-Flex technology, fueled by a cutting edge, broad-bandwidth digital platform, simply gives you more versatility with the Apex than can be found on any detector in its price range!
Choose from powerful single frequencies to enhance detection on specific targets*, or select one of Apex's simultaneous multifrequency modes to achieve excellent detection on all targets in all soils.
Note: lower frequencies generally offer improved detection on larger and more conductive targets (i.e. large silver coins). Higher frequencies generally offer improved detection on smaller and less conductive targets (i.e., hammered silver coins, gold nuggets).
IRON VOLUME:
CONTROL WHAT YOU HEAR
IRON VOLUME allows users to decrease the volume of iron targets, while the volume of non-ferrous targets remains at a normal level. Experienced treasure hunters often like hearing all targets, but will appreciate the option to decrease the volume of undesired items.
With eight Iron Volume adjustments, Apex offers more flexibility than any other detector in its price range.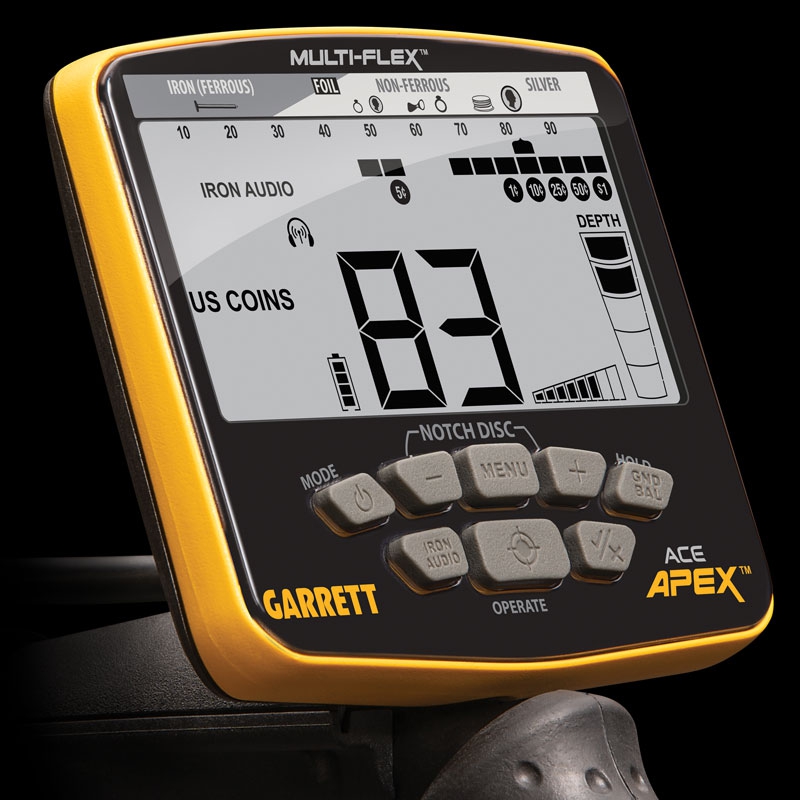 INTUITIVE AND EFFICIENT CONTROLS
Direct drive buttons for most frequently used controls. Easy-access menu adjustments for other controls.
SIX DETECTION MODES + PINPOINT
Zero, Coins, US Coins (with coin icons), Jewelry, Relics, and Custom
HI-RESOLUTION GROUND BALANCE
175 points of ground balance resolution (like the Garrett AT Max), ranging from ferrous ground to saltwater.
LARGE TARGET ID NUMBERS RECHARGEABLE BATTERY
Built-in rechargeable lithium-ion battery provides up to approximately 15 hours of use, depending on the setting. Mini-USB charging cable included.
IRON AUDIO
Garrett's unique feature helps to correctly identify complex iron objects, such as bottle caps.
5-TONE AUDIBLE TARGET ID
Five distinct tones provide greater audible target identification than on Garrett detectors.
HYBRID AUDIO SYSTEM
The Apex target audio provides the simplicity of binary audio (found on existing ACE detectors) with the additional benefits of subtle proportional audio for faint targets.
HI-RESOLUTION DISCRIMINATION
Twenty pixels of Notch Discrimination, including 8 pixels of Iron.
BACKLIT LCD VOLUME CONTROL
For both the built-in speaker and headphones.
EIGHT SENSITIVITY/DEPTH ADJUSTMENTS
1/8" JACK for optional wired headphones.
BUILT-IN Z-LYNK WIRELESS TECHNOLOGY
Up to 6 times faster than Bluetooth. Hunt without the cords!
The Garrett Ace APEX metal detector is one of the newest best metal detectors available today. If you need help finding the right treasure detector for your needs, contact Treasures in America. We are passionate about treasure hunting and are happy to offer resources, guides, and more product information for our customers.